Holocaust Survivor Tells Heartwrenching Story of the Day He Was Freed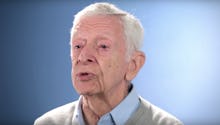 A Holocaust survivor recalled the day he was freed from a concentration camp for BuzzFeed — and his story is chilling.
The man, who isn't named in the video, was a prisoner at the camp for a year before it was liberated. He and his friends didn't get much sleep and he hadn't washed himself once. He told BuzzFeed that it wasn't unusual to wake up next to dead people.
One morning, he and his friends awoke to find no guards in the guard towers.
They approached the padlocked gate to the camp. Then, he said, a Russian soldier emerged from the fog, just beyond the gate.
"But, he says, as he takes out his gun and shoots off the padlock, 'Doctors will be coming, medication will be coming, food will be coming very shortly.'"
"We go to every barrack in the vicinity, open up the door, and in every language that we know just yelling, 'We are free! We are free!'"
"You'll never forget that moment, the sounds from the barracks," he said.
Watch the full video below.
Read more: