2 US Marines Under Investigation For Threatening Gay Bars After Orlando Shooting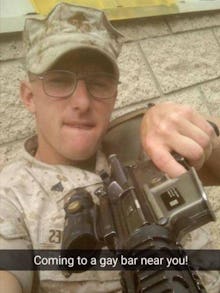 It's hard to imagine a good time to post a photo of yourself on Facebook holding a rifle with the caption, "Coming to a gay bar near you!"
But it's easy to imagine the worst time: After the deadliest mass shooting in recent memory, which left 50 people dead and 53 injured at Pulse, a gay nightclub in Orlando, Florida.
Two active-duty U.S. Marines based at Camp Pendleton outside San Diego, California, are in hot water after posting an image of one of them holding an assault rifle with the caption "Coming to a gay bar near you!" on Facebook Thursday, the Marine Corps Times reports. 
Command from the 1st Marine Expeditionary Force, of which the two men are members, has launched an investigation into the incident, a spokesperson for the task force confirmed via email. The spokesperson did not specify what disciplinary action the Marines might face as a result of the investigation. Neither man has been named publicly.
One of the two men shared the note in a Facebook post — which has since been deleted — on Camp MENdleton resale, a closed group for male Marines with over 25,000 members. The solider who posted the photo was kicked out of the group immediately, according to the Times — but not commenting on the post, "Too soon?"
Marine officials have since spoken out against the men's actions.
"The Marine Corps does not tolerate discrimination based on sexual orientation, race, gender or religion," the 1st MEF said in a statement via email. "This type of behavior and mindset will not be allowed, and it is not consistent with the core values of honor, courage and commitment that are demonstrated by the vast majority of Marines on a daily basis."
Until 1993, these "core values" included a ban on homosexuals serving in the military. Between 1993 and September 2011, LGBT people were also prohibited from openly disclosing their sexual orientation under "Don't Ask, Don't Tell." Congress and President Barack Obama finally repealed the law in 2011.
Read more: Orlando's LGBTQ Community Gathers to Mourn After Tragic Pulse Shooting