Meet Lori Mae Hernandez, 'America's Got Talent''s Unbelievable 13-Year-Old Comedian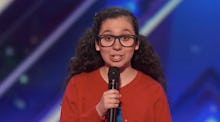 Lori Mae Hernandez may only be 13, but she knows how to work a crowd.
The teenage comedian slayed a stand-up set on America's Got Talent this week — and she even managed a jab at Donald Trump in the process. Hernandez started off her routine by riffing on her age.
And her lack of babysitting skills:
Then she took aim at the Donald.
And the judges loved it.
See the whole thing here:
Don't forget to tip your servers!
Read more: 
• 30 Seconds of This Music Student's Song Had Pharrell in Tears