Anti-Trump PAC "Americans Against Insecure Billionaires With Tiny Hands" Is Here for You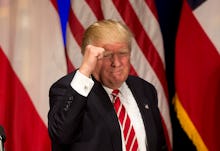 It's no secret that presumptive Republican nominee and former reality television personality Donald Trump is somewhat sensitive to comments about the size of his delicate hands — so one anti-Trump political action committee is going after him for it.
The Americans Against Insecure Billionaires With Tiny Hands PAC was founded in March by Portland resident Henry Kraemer, reports the Oregonian. Kraemer said his goal in starting the PAC was to "expose the truth about Donald Trump's tiny baby hands."
The PAC was originally called Trump Has Tiny Hands — a name the Federal Elections Committee rejected for using Trump's name without his authorization. On Tuesday, the Americans Against Insecure Billionaires with Tiny Hands released a video, demanded Trump's "hand measurements," that ran as a television spot in Washington, D.C. on Wednesday night, Gawker reported.
In the video, Americans ask the tough questions about Trump, like, "If the White House phone rings at 3 a.m., would his little hands even pick up the receiver?" and "When he decides to launch his nuclear war, will his stubby fingers even be able to push the button all the way down?"
There's no word yet from the Trump campaign as to whether or not they plan on releasing Trump's official hand measurements, but if you need a refresher, here's the New Yorker's analysis of the situation:
Read more: