'Orange Is the New Black' Season 4: Judy King, New Inmate, Stirs the Pot and Tempers Flare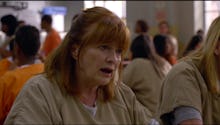 (Editor's note: Spoilers for season four of Orange of the New Black ahead.) 
In the third season of Netflix's Orange Is the New Black, one of the ways in which the inmates take a brief respite from their day-to-day activities is through watching a fictitious cooking show, hosted by Judy King (Blair Brown). By the end of the season, however, we learn that King has been arrested for financial trouble and the final scene we see of her is at Litchfield Prison, ready to begin her sentence. 
King is, essentially, the show's answer to what happens when you combine the backstories of Martha Stewart and Paula Deen — and Brown has said this about the character herself. But King will do more than just offer culinary tips to the inmates; her treatment will also play a part in the prison-wide culture war that breaks out during the new season.
Because King is a celebrity in the series' narrative, her presence at Litchfield in season four is treated with a certain apprehension by Joe Caputo (Nick Sandow) and the new prison management. Should King be dissatisfied with her stay and make that known upon her eventual release, it would be a public relations disaster for the now for-profit institution. 
From the get-go, the celebrity chef was given special treatment by Caputo and co., to the point that she was able to pick out her own bunkmate in a room isolated from the rest of the population. There, she's given the unassuming, friendly Yoga Jones (Constance Shulman) to room with. This disparity, coupled with the influx of inmates that enter the prison and force the rest of Litchfield to deal with overcrowded dorms and bathrooms, creates some of the primary tension of the new season.
It's easy to see why other inmates would be irate: King is a rich, white woman and quite plainly, the 1% embodied in the series. That she is, essentially, the only inmate immune to the rest of the prison's new, uncomfortable adjustments will be one of the many factors in a culture war breaks out in Litchfield. As the actors have said themselves, in turn, it becomes the darkest season of Orange Is the New Black yet. 
"Danger is the underlying theme: racial tension and danger," Selenis Leyva, who plays Gloria, said in an interview with the Hollywood Reporter. "This season is definitely going to start up conversations that we're dealing with now."
Orange Is the New Black season four is currently streaming in its entirety on Netflix. You can watch the trailer for the new season below: 
Read more: