Native American Tribe Is Suing Budweiser for Stealing Its Slogan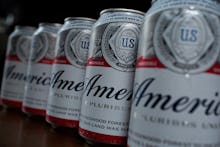 Assuming a group of people support you is never really a great move — just ask Donald Trump. 
This is a lesson beer maker Anheuser-Busch learned the hard way this week. A Native American tribe in North Carolina filed a federal lawsuit against the company for illegally using the tribe's logo and slogan in an ad campaign without their permission, the News & Observer reported. Oops. 
The Lumbee Tribe of North Carolina filed the lawsuit Tuesday morning, accusing the beer maker of using its "Heritage, Pride & Strength" slogan on banners hung in convenience stores advertising Budweiser and Bud Light. The banners also feature the Lumbee tribe's logo, a circle that is divided into four different colored quadrants. Lawyers for the tribe argued that the banners leave a "false impression of an affiliation between the tribe and Anheuser-Busch."
The faux pas is especially gripping, considering the delicate relationship between Native American communities and alcohol. "Many members of the [Lumbee] tribe find offensive because alcohol abuse is often associated with Native American culture," the lawsuit stated.
Native Americans are "five times more likely to die of alcohol-related causes than whites," PBS noted. And problems with alcohol abuse start at a young age, researchers at Colorado State University found. According to the study, 18.3% of eighth-graders in the Native American community and 19.4% of 10th-graders participate in binge drinking. 
Anheuser-Busch issued an apology to the tribe, placing the blame of the advertising mishap on the wholesaler distributing its beer, Fox News reported. 
"Our wholesalers often implement local marketing efforts on behalf of our brands," the apology reads. "The wholesaler responsible for these signs removed them shortly after a complaint was brought to its attention, and has since expressed its regrets. Anheuser-Busch respects the Lumbee Tribe and likewise regrets that this occurred."
The advertising has been taken down, but there no word on whether the tribe plans to drop the lawsuit. If they do, someone else may take the opportunity — in the name of patriotism — to sue the beer maker for temporarily renaming Budweiser "America."
Read more: