Updates to the Johnny Depp and Amber Heard Domestic Abuse Allegations and Court Dates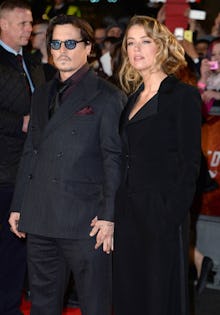 Amber Heard's restraining order hearing against her estranged husband Johnny Depp was postponed less than 24 hours before the model was expected to appear in court on Friday, E! News reported.
The hearing has instead been pushed back to a later date, along with two separate court dates which have been moved back to mid-August, E! News reported. The news comes as rumors the two parties might settle out of court began surfacing online throughout the week. 
"Our insider insists that '[Heard] wants to go to court' but that both times Johnny's attorneys have requested to depose Amber they didn't 'follow the appropriate court protocol,'" the publication reported Thursday. 
Instead, Heard's temporary restraining order against Depp will remain in place until the later court date. The model also removed her prior request for temporary spousal support amounting to $50,000 per month, noting in court paperwork the motion was "used against me to distract and divert the public away from the very serious real issue of domestic violence."
"In light of the coordinated false and negative media campaign falsely depicting my attempts to attain a CLETS Domestic Violence Restraining Order as being financially motivated, I am hereby withdrawing the request ... for spousal support," she continued. 
Heard can still place a second request for spousal support at a later date.
Read more: