Ellen DeGeneres Weighs In on the "Finding Dory" Maybe-Gay Couple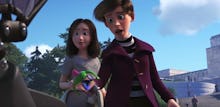 Turns out those two animated women spotted in Pixar's Finding Dory trailer aren't a lesbian couple, according to Dory herself, comedian Ellen DeGeneres.
"I didn't see it," DeGeneres, who voices the beloved Blue Tang fish, told USA Today after her second full viewing of the Finding Nemo follow-up at its world premiere on June 8.
The speculation stemmed from a quick shot of two women with a stroller, prompting some to believe the women are together. 
But DeGeneres was quick to note that there might have been some stereotyping that begot the wishful thinking.
"One of the woman has really short hair," DeGeneres told USA Today. "And I have to say, it's not a great haircut because it was really chopped up in the back ... I think people assume anyone with a bad short haircut is gay."
"Robin Wright has short hair," she added. "There are a lot of woman that are straight that have short hair. It's just not as common."
Read more: