Westboro Baptist Church Will Picket Orlando Victims' Funerals — Here's the Response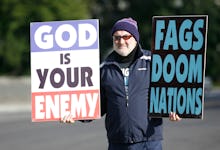 Hate group Westboro Baptist Church has announced plans to take their traveling circus to Orlando, Florida, this weekend to protest at the funeral services of two of the victims of Sunday's mass shooting at gay nightclub Pulse, which left 50 dead including the gunman.
The Southern Poverty Law Center identifies the Westboro Baptist Church as "arguably the most obnoxious and rabid hate group in America," noting their range of intensely anti-gay rhetoric and audacious protesting with signs "bearing messages like 'God Hates Fags,' 'God Hates Jews,' 'Thank God for Dead Soldiers' and 'Thank God for AIDS.'"
But the WBC is so notoriously awful that counter-protestors have established peaceful strategies for responding to its messages of hate — and it seems that's exactly what will happen in Orlando this weekend.
"I'm not surprised evil reared its ugly head," Terry DeCarlo, executive director of the GLBT Community Center of Central Florida, told the Orlando Sentinel. "We'll make sure they are not heard."
The WBC applied for "a 45-minute permit for four people outside the Cathedral Church of Saint Luke on Magnolia Avenue," where funeral services for two of the victims of Sunday's massacre are scheduled to be held, Sentinel reported. DeCarlo told the outlet that counter-protestors from the GLBT center will don "angel wings" and hold signs with supportive messages, to protect mourners from their Westboro detractors.
As news of the WBC's planned protest spreads, many are voicing their feelings about the group on Twitter:
Read more: