Science Has Some Great News for Craft Beer Drinkers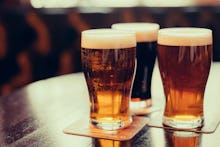 Good news, craft beer drinkers: You can now gloat about being healthier than your Bud Light-swilling peers.
According to a recent survey from The Harris Poll, craft beer aficionados have a healthier lifestyle than average beer drinkers. They're more likely to frequently exercise and consume beer in moderation. (Craft beer drinkers tend to consider beer to be a special treat.)
Roughly half of all craft beer drinkers report that they only drink alcohol on the weekends, the survey said. Meanwhile, 60% of regular beer drinkers consume alcohol all week long. 
And when it comes to exercise, craft beer drinkers visit the gym more than their Miller-loving pals. Almost 60% of craft beer lovers say they exercise several times a week, compared to just 52% of regular beer drinkers. The survey also noted that more craft brew drinkers report enjoying group fitness. Crossfit followed by post-WOD saisons, anyone? 
So maybe there is some real staying power the current trend of combining booze and working out afterall. There are a number places around the country offering classes that combine yoga and craft beer because apparently the best way to find your zen is through pints and poses. 
Related stories: