Childish Gambino's Strange App May Be a Sign New Music Is Coming — and Twitter Is Freaking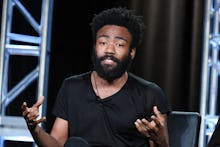 It's been a minute since the internet heard any new music from Childish Gambino, the hip-hop alter ego of actor and comedian Donald Glover.
Since releasing his EP/mixtape STN MTN / Kauai back in October 2014, the artist's social media accounts have shown almost no signs of life. He's made no announcements about a new album and given no music-centered interviews. A few leaked pictures here and there have suggested Gambino is been working on something, and Friday we got the biggest sign that something is coming — and soon.
Childish Gambino tweeted(!) a link to a strange app called PHAROS Earth. It has no description in the app store, and it links out to a very minimal website.
The app itself is nothing more than a simple moving graphic that looks a Star Wars spaceship traveling at light speed with a strange countdown at the bottom, and some soothing ambient music.
Twitter had no idea what to make of it, but the thought that at the end of that countdown there might be new Childish Gambino music was enough to send some into hysterics.
As some users like @Lostmyheadspenc pointed out, Childish Gambino also released a countdown in January 2015 leading up to his "Sober" music video. One iOS savvy fan dug further and found that the app contains logos for Mastercard and Discover, suggesting Childish Gambino will be selling something through the app.
At this point it seems there's only one way to find out what lies at the other end of Gambino's wormhole: staying tuned.
Read more: