The Simplest Way to Get Guacamole for Free at Chipotle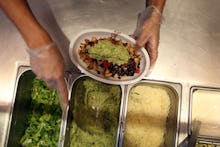 "The guac is extra." 
They're the the four words Chipotle fans dread the most. The phrase has become so ingratiated into modern culture that there are even T-shirts dedicated to the cause.
Overall, Chipotle is a wonderland for toppings-lovers because, for the most part, they're unlimited. You can get lettuce, three kinds of salsa and sour cream on that burrito bowl and no one will bat an eye. That is unless you want guacamole. The popular green stuff will cost you a few extra dollars no matter how many or how few other toppings you get. 
However, there is one simple hack to get the guacamole for free: Order vegetarian.
If you purchase a meatless bowl, burrito, or order of tacos, the guacamole is included. Yes, really it's that simple. The only exception: While the sofritas are technically vegetarian, the hack does not apply because the included tofu count as an additional protein. 
If you can't stand the thought of giving up carnitas in the burrito, there is another, slightly more complicated way to get free guacamole. As part of its attempt to gain back customers after its e.coli outbreak, Chipotle launched an online game called Guac Hunter. Anyone who plays gets a coupon for free guacamole and chips and a healthy dose of Chipotle propaganda. Yum. 
Read more: