What The Hell is Going On With Oakland's Police Department?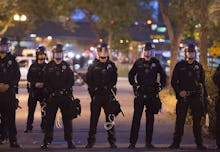 Something is rotten in the state of California. And it involves several incidents of misconduct, including at least one alleged murder, an alleged cover-up of said murder, a police suicide, an underage sex scandal and racist text messages. 
The convoluted web of scandalous events originate from the Oakland Police Department, which has seen three police chiefs come and go in the course of one week amid allegations of the underage sex scandal involving several police departments in California. According to Buzzfeed News, five Oakland Police officers have been placed on administrative leave due to the sex scandal allegations.
Aura Bogado, a justice writer for Grist, pointed out the corruption within the Oakland Police Department in an extensive Twitter thread. 
How did the Oakland Police Department get here? Brendan O'Brien, an Oakland police officer who committed suicide last September, left behind a suicide note that implicated several police officers in a sex trafficking scandal. According to the Los Angeles Times, that suicide note initiated a hushed investigation into the sex trafficking allegations that included several police officers and an underaged sex worker.
According to KPIX?TV, investigators believe that the underaged sex worker has had sexual relationships with "potentially dozens of police officers" since she was 16. Local news outlet East Bay Express uncovered that about 14 Oakland police officers engaged in sexual activities with the underaged sex worker, whose mother was also a dispatcher within the police department.
O' Brien, however, was accused of murdering his wife, Irma Huerta Lopez, by members of the family. "He killed her," Paulina Huerta, sister to Irma Lopez, told East Bay Express in an interview. Lopez, whose death was ruled a suicide in June 2014, was briefly investigated as suspicious. Huerta went on to tell East Bay Express that her family was ignored by the police while looking for answers.
Former Police Chief Sean Whent was the first to resign from the position last week, when several Oakland Police officers were placed on administrative leave due to the allegations of sexual misconduct with the underaged sex worker. The only reason Whent gave for resigning from the position was that it was a "personal choice." 
Whent's replacement, former interim Police Chief Ben Fairow, only lasted six days before Oakland mayor Libby Schaaf ousted him as police chief. 
"I have just received information that has caused me to lose confidence in Ben Fairow's ability to lead the Oakland Police Department at this particular moment in time," the Oakland mayor said in a statement, according to The Guardian. "I made the decision to appoint Ben Fairow, I also own the decision to remove him. I firmly believe that when you make a mistake, you need to own it, and act quickly to correct it."
Fairow was then quickly replaced by Interim Chief Paul Figueroa, who resigned only two days after he was announced as the police chief. "I have informed the Mayor and the City Administrator that I cannot fulfill the functions of the Acting Chief of Police for the City of Oakland and I am stepping aside to take leave," Figueroa said in a statement. 
After Figueroa's departure, Mayor Schaaf announced that the Oakland Police Department will operate under civilian control, according to the LA Times. City Administrator Sabrina Landreth will take the reins of the department while Oakland searches for another police chief, Mayor Schaaf announced Friday.
As if that wasn't enough, the department is also investigating an unrelated incident of racist text messages police officers were sending amongst one another. According to KPIX?TV, Mayor Schaaf condemned the officers who were "engaging in hate speech," as well as those who were "tolerating it" by not stepping forward and reporting those officers sending the hateful messages.
All in all, the mayor of Oakland has had enough. "As the mayor of Oakland, I am here to run a Police Department, not a frat house," Schaaf said in a statement posted to Facebook. "... I am determined to root out a culture that tolerates unethical behavior."
"I am cleaning house, bringing in outside agencies to ensure the integrity of our investigations and will be merciless in punishing those who are found guilty."