'Finding Dory' Just Set a Record for Highest Grossing Opening for an Animated Film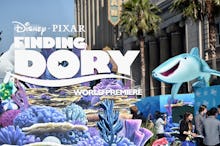 After years of anticipation, Finding Dory, the sequel to 2003's Finding Nemo, delivered big at the box office.
According to Deadline, the Disney-Pixar movie raked in $55 million in the United States on its June 17 premiere, setting a record for the highest grossing debut of an animated movie. In its wake, Finding Dory leaves both last summer's Minions, which grossed $46 million, and 2007's Shrek the Third, which grossed $47 million. The outlet projected that, in total, the opening weekend will bring in $140.6 million.
The release of Finding Dory's trailer sparked speculation about whether two women shown with a stroller would be Pixar's first lesbian couple. Ellen DeGeneres, who voices Dory, though, denied the rumors, speculating that viewers may have had a specific stereotype in mind that led them to believe the women were a couple.
"One of the woman has really short hair," DeGeneres told USA Today. "And I have to say, it's not a great haircut because it was really chopped up in the back ... I think people assume anyone with a bad short haircut is gay."
While the revelation may have left some disappointed, in terms of its progressive themes, the movie may have redeemed itself with an important message about disability.
According to another report from USA Today, the directors of Finding Dory thought carefully about how they would portray Dory's memory loss.
"Dory has an obvious disability, but she finds out what her strengths are in her particular brain," co-director Angus MacLane told the outlet. "For some people, those strengths are visible and for some might be hidden."
He said that since many adults still harbor a stigma against disability, the movie was an opportunity to make a positive impact on children.
MacLane said, "If we get children to think about it now and have awareness of psychological difficulties, that is a huge and important step forward."
Read more: