Alabama Official Refuses to Fly Flags At Half-Staff After Orlando Nightclub Massacre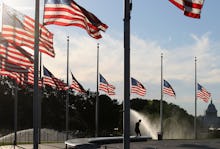 Officials in Baldwin County, Alabama refused to follow a dictate issued by President Barack Obama and Alabama Gov. Robert Bentley to fly all flags in the state at half mast following a mass shooting at a gay nightclub in Orlando, Florida early Sunday morning that resulted in at least 50 deaths — including the shooter — and more than 53 people injured.
Baldwin County Commissioner Tucker Dorsey justified the decision to not fly the flag at half mast with references to the U.S. Flag Code to CNN's Erin Burnett on Friday, saying the president does not have the authority to issue such an order in "instances where there are the passing of individuals who have given significant distinguished service to our country."
Dorsey elaborated on his explanation in a Facebook post "regarding lowering the flags because another follower of Islam decided to shoot up a bunch of innocents in a place where they didn't have the chance to defend themselves or flee. When are we going to acknowledge the truth? When will we stop the PC and identify the enemy?"
"When the flag is at half-staff, our country's head is figuratively held low, and quite frankly, I am not willing to hang my head down because of a terrorist attack against our people and our allies," Dorsey wrote. "I am not willing to hang my head down because evil shoots up a church, school, or movie theater. We need more than a gesture as a response. I want us, as Americans, to stand tall, courageously, and fight back against the forces of evil, and let's fight like we intend to win."
Obama has issued more calls for the flag to be flown at half-mast than his predecessors, though not by a huge absolute number — since 2009, USA Today reported, the president has ordered the flag be put in mourning some 66 times, more than George W. Bush (58) and Bill Clinton (50).
The governor of Alabama, Robert Bentley, issued a similar order this week.
"I think the lowering of the flag, and an order from the President of the United States to order the lowering of the flag, is a symbolic expression of national mourning," White House Press Secretary Josh Earnest told reporters on Wednesday, according to NBC News. "I think that what we also see is that over the course of generations that symbolism is expressed in different ways."
Read more:
There Was a Mass Shooting at a Gay Bar Almost a Month Ago You Didn't Hear About
Here's Why Paternity Leave Is a Huge Feminist Issue