"Angels" Block Westboro Baptist Church From Protesting Orlando Victim's Funeral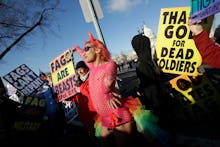 When a handful of Westboro Baptist Church members showed up Saturday at the funeral of Orlando, Florida, shooting victim Christopher Leinonen, counterprotesters donning large, white angel wings were there to shield mourners from the church, considered a hate group by the Southern Poverty Law Center, the BBC reported. 
In response to news that the Westboro Baptist Church, known for picketing the funerals of U.S. soldiers often with signs boasting anti-LGBT rhetoric, members of the Orlando Shakespeare Theater put together linen angel wings as a symbolic but also literal screen between the small group of church members and the funeral procession. 
"The Orlando Shakespeare Theater, has organized the 'Angel Wing Project,' building angel costumes with wide wings so that groups can block mourners from having to see the Westboro protesters," Broadway World reported last week. 
About 200 counterprotesters showed up after the Westboro Baptist Church announced last week it would be attending the funeral, the BBC reported. 
"We originally made it as large as possible because we didn't know the location, we wanted to make sure we could block the [Westboro Baptist Church] signs," Wesley Wizner, one of the counterprotesters, told the BBC. "We just intended to make sure we were showing as much support as possible and they [anti-gay protesters] were running into as large of an opposition as we could create."
In the early morning of June 12, a man identified as 29-year-old Omar Mateen opened fire on clubgoers at Pulse, a gay nightclub, in Orlando. Fifty people, including the shooter, were killed in what became the deadliest mass shooting in modern U.S. history. 
Early Saturday afternoon, the Orlando police tweeted the Westboro protesters had "left the state." 
Read more: