Istanbul LGBT Pride: Police Respond to Banned Trans Pride Event With Force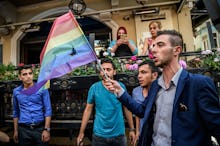 A banned pride event in Istanbul gave way to scuffles between demonstrators and police on Sunday, the BBC reported. Police in riot gear used tear gas and plastic bullets to try and disperse a crowd of transgender rights activists who had gathered despite the government's earlier ban on pride events amid what officials said were heightened security concerns. 
While Turkish authorities said the ban needed to be enforced due to threats against the event, which takes place during the Muslim holy month of Ramadan, organizers responded by arguing "the governorship prefers to limit people's rights and freedoms instead of taking measures to deal with the threats," the New York Times reported. "It is crucial for us to be visible and at the center of our cities for at least one day of the year."
"Dozens of LGBT demonstrators gathered near Istiklal Street on Sunday, some brandishing rainbow flags," the Guardian reported. "Police called on them to disperse and prevented activists from marching or making statements."
Hundreds of officers in riot gear were involved in the dispersal, according to Reuters.
"Football fans can rally in this country whenever they want," Istanbul LGBTI Solidarity Association spokeswoman Ebru Kiranci told Reuters. "We were going to do a peaceful activity. [The] holy month of Ramadan is an excuse. If you are going to respect Ramadan, respect us too. The heterosexuals think it's too much for us, only 2 hours in 365 days."
Photos and videos of the event, as well as the subsequent crackdown, emerged online Sunday:
Tom McKay contributed additional reporting to this story.
Sunday, June 19 at 2:22 p.m.: This story has been updated.
Read more: