One Week After Orlando Shooting, Here's What We Know About What Happened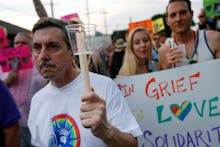 One week ago, an armed gunman identified Omar Mateen entered Pulse, a gay nightclub in Orlando, Florida, and killed 49 people and wounded 53 others before dying in a shootout with authorities.
In the week since, all-too-familiar details about the nature of the shooting, its motivations and what officials are planning to do about it have emerged. Here's the latest information on what transpired during the appalling events of that day.
The shooter
A more complete picture has emerged of Mateen, the 29-year-old Port St. Lucie, Florida, man who conducted the attack.
Nearly a decade ago, Mateen passed a psychological background test to secure a Florida state weapons permit and "performed well in training" in firearms while briefly employed as a correctional employee, the Miami Herald reported. 
But according to the Wall Street Journal, Mateen "hadn't committed a crime as an adult, [though] his record was replete with incidents that troubled those around him" — including at age 14 "mimick[ing] an airplane flying into the World Trade Center; a long record of bigoted statements about gays and other groups; and threatening to murder attendees at a 2007 barbecue for corrections officers trainees after his hamburger had touched pork.
Others have said Mateen was gay and closeted, though authorities are skeptical, reported the New York Times. His father (whose credibility is in question) suggested Mateen's homophobia was the primary motivating factor in the attack.
In addition to hatred of gays, the Los Angeles Times reported Mateen used slurs against black people and women.
"You meet bigots," Daniel Gilroy, one of Mateen's former co-workers, told the Times. "But he was above and beyond. He was always angry, swearing, just angry at the world."
Mateen also reportedly bragged about supposed affiliations with Islamic extremist groups including al-Qaeda and Hezbollah in 2013, forcing his removal as a security guard from the St. Lucie County Courthouse in Fort Pierce, Florida, the New York Times reported in a separate piece. Since al-Qaeda is an international Sunni terror organization and Hezbollah is an Iran-backed Lebanese Shiite group, and the two groups have at best a confrontational relationship, authorities did not consider his claims credible at the time.
While authorities placed Mateen on a watch list, he was removed following two FBI investigations into his statements in 2013 and 2014.
The attack
After entering Pulse nightclub on June 12, Mateen opened fire on crowds before taking hostages in a three-hour rampage. Eventually, Mateen died in a shootout with police tactical teams that blew their way through an outer wall after Mateen made comments suggesting he was carrying explosives.
He was armed with a handgun and a Sig Sauer MCX semi-automatic rifle with a 30-round magazine originally designed for military use in combat zones.
Mateen pledged allegiance to ISIS and its commander, Abu Bakr al-Baghdadi, during the attack, and had posted to Facebook using as many as five separate accounts to spread ISIS propaganda and threaten U.S. citizens.
CIA director John Brennan told the Senate Intelligence Committee his agency has "not been able to uncover any direct link" between Mateen and any foreign terrorist groups, indicating Mateen was radicalized in the U.S. and was operating on his own prerogative.
While the Islamic State group, also known as ISIS, subsequently took credit for the attacks anyhow, and encourages other Muslims in the United States to conduct similar assaults on civilians, that does not suggest ISIS is capable of conducting its own attacks in the United States. Instead, the New York Times wrote, such efforts to inspire future shooters are "a purposeful blurring of the line between operations that are planned and carried out by the terror group's core fighters and those carried out by its sympathizers ... intended to protect the organization in an age of surveillance."
Further indicating the lack of any direct ISIS involvement were Mateen's additional references to al-Qaeda during the attack. Al-Qaeda and ISIS are at war.
Mateen's wife, 30-year-old Noor Zahi Salman, told authorities she accompanied him to Pulse on at least one occasion in a visit a U.S. law enforcement official called "reconnaissance," the Washington Post reported, though she has not been arrested.
The guns used in the attack were legally owned and purchased days before the shooting, although Mateen was turned away by the owner of a gun store in Orlando where he had attempted to buy body armor and 1,000 rounds of ammunition.
The FBI is planning to release partial transcripts of Mateen's phone calls with authorities, with the portions invoking ISIS redacted.
The aftermath
Information about the 49 victims, who were predominantly gay, Latino men, was widely disseminated in the media in the days following the massacre.
The targeted massacre of LGBTQ people happened during Pride Month. Thousands of people across the U.S. took to the streets for Pride marches in support of the LGBTQ community over the course of the next week.
"Now that this has happened, this is just a part of our experience as people and the memory of the people who were murdered, the poignancy of the next time we're all gathered at a queer Latino night in D.C., or wherever, we're not going to be able to be in that space without thinking about the people who we've lost and what that means," Cuban-American LGBTQ activist Miriam Zoila Pérez told NPR. "Nothing I planned on doing post-Sunday is going to be the same. Everything is shifting."
Polling showed the attack increased support for stricter gun control measures, although it also sent gun stocks skyrocketing in anticipation of increased sales.
President Barack Obama subsequently met with the victims' families Thursday, saying, "Those who were killed and injured here were gunned down by a single killer with a powerful assault weapon. The motives of this killer may have been different than the mass killers in Aurora, or Newtown. But the instruments of death were so similar. Now another 49 innocent people are dead. Another 53 are injured. Some are still fighting for their lives."
The premier gun lobbying organization, the NRA, has not changed its stance on gun rights following the attack.
The nation's highest federal court may take action as well. "The Supreme Court will announce as soon as Monday whether it will hear the challenge brought by gun rights groups and individual firearms owners asserting that the laws violate the U.S. Constitution's Second Amendment guarantee of the right to bear arms," Reuters reported Sunday.
Democrats in the Senate conducted a 14-hour filibuster during the week, after which Democratic Sen. Chris Murphy of Connecticut said the party had secured votes on two measures to expand background checks on gun show and internet firearms sales and preventing people on terror watch lists from buying weaponry. Presumptive Democratic nominee Hillary Clinton once again called for a national ban on the manufacturing of assault weaponry, though the Nation noted there "will be no imminent movement on assault weapons in Congress, and none of the major gun control groups that have been ascendant since [the 2012 massacre at Sandy Hook Elementary School in Newtown, Connecticut] even have a position on an assault weapons ban."
Republican presidential contender Donald Trump infuriated many when he congratulated himself on Twitter for supposedly predicting the attack and renewed calls for a ban on Muslim entry to the United States. His calls for increased surveillance of U.S. Muslims and suggestion Obama has ulterior motives preventing him from dealing with the problem are broadly unpopular, according to a Bloomberg Politics poll — but other polling suggests the Muslim ban has slight majority support.
Trump also veered from Republican orthodoxy by pledging to meet with the NRA to prevent people on terror watch lists from procuring firearms. But later, he seemed to have gone too far in favor of gun rights for the lobbying group's tastes by suggesting the massacre could have been prevented if the club-goers were armed.
"I don't think you should have firearms where people are drinking," NRA CEO Wayne LaPierre said Sunday on Face the Nation on CBS.
In general, however, Trump's response to the shooting has clearly hurt him with the majority of voters:
While the infamous anti-gay hate group Westboro Baptist Church pledged to picket the funerals of those murdered in the massacre, protesters donning "linen angel wings" interposed themselves between the Westboro members and attendees at a service Saturday for victim Christopher Leinonen.
Read more: