Orlando Shooting Update: Transcript of Omar Mateen's Exchange With Cops to Be Released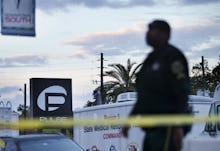 Omar Mateen's exchange with police from inside Latin night at the gay nightclub Pulse in Orlando, Florida, will be released by the FBI on Monday as a transcript — with some redactions. 
Portions of his negotiations with authorities as he carried out the massacre of 49 club-goers will be left out in an effort "not to revictimize those who went through that horror," including the gunman's pledging allegiance to the Islamic State group, United States Attorney General Loretta Lynch told ABC's This Week With George Stephanopoulos on Sunday. 
This news follows last week's revelations that Mateen periodically checked Facebook, texted his wife and posted status updates while on his early morning rampage inside the club. According to CNN, the 29-year-old was seeking updates on whether his shooting was being reported on the news. Not long after, Mateen was shot and killed by law enforcement. Wisconsin Sen. Ron Johnson wrote a letter to Facebook creator Mark Zuckerberg seeking Facebook's support in the investigation of the attack.
"You kill innocent women and children by doing U.S. airstrikes," Mateen wrote in a Facebook post. "Now taste the Islamic State vengeance."
While the shooter was texting his wife, Noor Salman, at about 4 a.m. Eastern, he did not pick up her calls. At one point, she sent him a text letting him know she loved him. Reports also indicate that prior to the attack, Salman accompanied Mateen as he purchased ammunition. She also reportedly drove him to the Pulse nightclub on previous occasions. It's not yet known whether she will face charges. Mateen was also stopped from buying body armor and bulk ammunition at a Florida gun shop just weeks before the shooting. 
Mateen's massacre seems to have been a long time coming. The New York Times detailed his well-documented history with aggression, dating all the way back to his childhood. 
"Omar Mateen was that chunky kid with glasses, remembered more for his scrapes with other classmates than for his academic performance," the newspaper reported Saturday. Later, his coworker would describe him as "agitated about everything ... always shaken. Always agitated. Always mad." 
Mateen was obsessed with law enforcement, described as an abusive husband and could be openly homophobic despite multiple reports alleging he was active on gay dating apps and even frequented the club that would eventually become the site of his early morning rampage.
Lynch will travel to Orlando for a briefing on the investigation Tuesday.
Here is Mic's original coverage of the shooting:
At least 50 people are dead, including the killer, and 53 injured after a gunman entered Pulse, a gay nightclub in Orlando, Florida, and opened fire, first on patrons and staff and then on responding law enforcement personnel.
Law enforcement sources told CBS News they have identified the suspect as Omar Mateen, a U.S. citizen from Port St. Lucie, Florida, who was born to Afghan parents in 1986. The LA Times' Matt Pearce confirmed authorities had given the name to the paper's D.C. bureau as well.
In an interview with NBC News, the suspect's father, Mir Seddique, apologized and said the massacre had "nothing to do with religion." Instead, he said, the shooting may be tied to an incident several months ago, when Mateen became enraged upon seeing two men kissing in Miami.
"At this point, this is an incident, as I can see it, we can certainly classify as a domestic terror incident," Orange County Sheriff's Office spokesman Jerry Demings said, according to CBS News.
Correction: June 20, 2016 
Read more: