Donald Trump Claims He Never Said Orlando Victims Should Have Been Armed — But He Did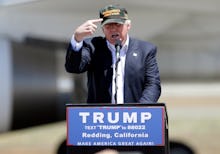 Donald Trump sought to rewrite history Monday morning, walking back his previous comment that the 49 victims killed in the Pulse nightclub in Orlando, Florida, should have been armed.
In a speech Friday in Texas, the presumptive Republican presidential nominee said that if people in the nightclub "had guns strapped .?.?. right to their waist or right to their ankle," they could have shot "the son of a bitch," the New York Post reported.
Trump made similar comments to conservative radio host Howie Carr last week.
But in a Monday morning Tweet, Trump clarified those comments, saying he meant the nightclub bouncers or guards should have had firearms to thwart the gunman — not the club-goers themselves.
Even the National Rifle Association — the pro-gun lobby that often thwarts any lawmaker-led efforts at passing gun control laws — was not on board with Trump's call for inebriated club patrons to carry firearms.
"No one thinks that people should go into a nightclub drinking and carrying firearms," NRA Institute for Legislative Action Executive Director Chris Cox said on ABC's This Week. "That defies common sense. It also defies the law."
This is not the first time Trump has tried to walk back comments.
Earlier this year, Trump walked back his call for women to be punished for having abortions. He also sought to temper his call to ban Muslim immigrants from America, before doubling down on that ban in the wake of the Orlando attack.
Read more: