Rihanna Cheered On LeBron James on Instagram — And the Internet Freaked Out About It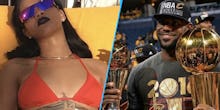 Rihanna, a known bad gal and passionate basketball fan, has been living for this year's NBA playoffs.
We know this because she's been documenting her support of the Cleveland Cavaliers — specifically, LeBron James — on Instagram ever since they won Game 2 of the Eastern Conference Finals four weeks ago. She celebrated by tagging James in a scandalous bikini shot featuring his number (23) written on her midsection in what appears to be sunscreen lotion.
So it was only natural that her timeline would be jubilant in the aftermath of Sunday night's NBA championship, when James played the game of his life and finally got Cleveland fans that NBA title he'd been promising them.
First, Rihanna threw shade at the failed competition:
Then she re-posted the infamous bikini shot:
She also uploaded this picture of LeBron with his championship and MVP trophies:
And then this photograph, captioned "Bae! Lol," in which she stands in front of the television screen:
While all this LeBron love was going down, some commenters freaked out.
"She just wanna fuck LeBron to get back at JR," wrote one Instagram user, likely referring to NBA player J.R. Smith, with whom Rihanna had some social media beef a couple years ago after the pair were rumored to be romantically involved.
Some of RiRi's other followers speculated that she was thirsty for LeBron's D.
"She wants him to cum on her stomach," one user with no chill wrote on the bikini pic. "He's married you whore," added another. "The thirst," someone else profoundly stated.
All of these melodramatic reactions beg the question: Can Rihanna live?
Can Rihanna just fangirl over LeBron James in peace? Can she playfully refer to him as "bae" without her millions of followers assuming that she is trying to literally break up his marriage? Did nobody notice that it was "Bae! Lol," clearly indicating that "bae" was not meant to be interpreted literally?
Rihanna doesn't seem all too bothered by her mentions, though. Her final Instagram post of the night involved popcorn and a very good facial expression.
Read more: • Here's What Happens When LeBron James Likes Your Booty Pics on Instagram