Olli, the First 3-D Printed, Self-Driving Electric Bus, Is Now Cruising in DC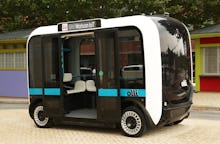 The promise of autonomous commuting is alive (but not sentient) in Washington, D.C. 
Olli is futuristic as hell — it's a self-driving bus that you can talk to like Amazon's Alexa, it is 3-D printed, you can hail it using an app like Uber or Lyft, and it can learn from experience (by digesting loads of data from its 30 sensors). 
Olli, created by Local Motors, is equipped with IBM Watson's advanced cognitive computer learning capabilities, according to a press release. The brainy bus hit public roads in D.C. on Thursday and will roll out in Miami-Dade County, Florida, and Las Vegas in late 2016.
Passengers aboard Olli will be able to chat with the bus during their rides, asking questions like, "Olli, can you take me downtown?" "How does this feature work?" and "Are we there yet?" the press release states. They will also be able to ask the bus for tips on local attractions "based on analysis of personal preferences," which means the car is going to know a little bit about you, likely via the app with which you hailed it. 
And Local Motors doesn't want to stop at just a smart bus — CEO and co-founder John B. Rogers said in a press release that the company wants to apply the technology found in Olli "to nearly every vehicle in our current portfolio and those in the very near future." 
Driverless public transportation powered by cognitive computing software makes for smarter and more efficient roads — that is, unless they are hacked.
Read more: