Tyler Ford: "I Should Not be Misgendered On Set ... It's Violent and Unprofessional"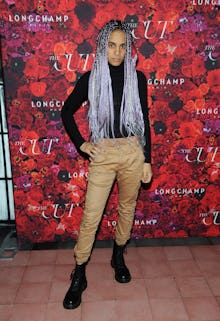 Transgender writer and activist Tyler Ford went on an epic tweetstorm on Friday, calling out a systemic problem within the fashion industry: the misgendering of transgender and gender nonconforming models.
"When the makeup artist calls you 'she' & the hairdresser calls you 'he' but the shoot is supposed to be highlighting trans folks #No," the 24-year-old wrote, without specifying a perpetrator. "If you're in charge of a shoot featuring a trans or non-binary person, you need to make everyone on set aware of their pronouns."
Ford, who is agender and uses they and them pronouns, wasn't issuing a public complaint, but rather making their unfortunate situation a call to action, with steps on how photo shoots can become more inclusive to folks who identify as transgender or outside of the gender binary:
Ford made it clear that though they are an activist, their work as such should need not be put to the test when they are hired for a modeling shoot.
Sadly, as they revealed, this is not a one-time offense, but rather an all-too-common occurrence at odds with the industry's ever-intensifying veneer of inclusivity. 
Ford expressed the sad truth that they have been misgendered on every single set they've ever been on, calling it not only "unprofessional as all hell," but an act of violence.
While trans and gender nonconforming models are more visible than ever — seen with the successes of Andreja Pejić in Vogue, Hari Nef walking the Gucci runway and Benjamin Melzer covering German Men's Health — their treatment on-set remains a vital misstep, with many shoots half-heartedly attempting to include trans/GNC identities while (perhaps unknowingly) making them feel invalidated or violated in the process.
"When you make the decision to not respect someone's pronouns, what you are ultimately saying is that their personal truth is something you are more knowledgeable about than them," wrote trans writer Sam Dylan Finch in a personal essay on their website.
And it's the casual nature in which these interactions occur that Ford highlights as being the most threatening of all, correlating this sort of erasure to the Orlando massacre.
Hopefully this can incentivize those on shoots to not only use the correct pronouns of the models — or anyone — on set, but to realize the importance of doing so.