These 8 Famous People Discovered Their Life's Mission While Traveling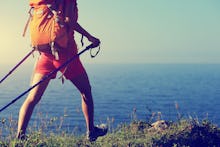 If you're a modern day traveler, you're not just looking to follow a tour guide or lay around sunbathing all day — you're craving an adventure, a life-changing experience and a chance to immerse yourself in a foreign culture in order to look at the world through a different lens.
You may think "I went abroad, and it changed my life" sounds cliché, but for these eight famous people, taking a trip of a lifetime left them utterly transformed.
1. George Harrison: Seeking Spirituality 
The Beatles had an indelible impact on generations of musicians and music lovers, but a major turning point in their journey from mop-topped boy band to groundbreaking artists was a group trek to Northern India in 1968, led by guitarist George Harrison. Harrison's interest in Eastern instruments like the sitar and spiritual philosophies inspired him to take a trip to meet Maharishi Mahesh Yogi and study transcendental meditation. He convinced his fellow Beatles to join him on the journey.
That experience had a major impact on the group's music going forward, from the "White Album," which they recorded upon their return, to songs like John Lennon's "Across the Universe" and Harrison's "My Sweet Lord." On a personal level, the trip opened Harrison's heart to the poverty and plight of the people in that region. He said, "I remember thinking I just want more. This isn't it. Fame is not the goal. Money is not the goal. To be able to know how to get peace of mind, how to be happy, is something you don't just stumble across. You've got to search for it." He organized the Concert for Bangladesh in 1971, which raised $15 million for UNICEF and inspired numerous goodwill concerts that would follow his example.
2. Lin-Manuel Miranda: From the Beach to Broadway
After a hectic year with the highly successful Tony award-winning show In the Heights, Lin-Manuel Miranda was getting ready for a much-needed vacation with his then-girlfriend and current wife. Looking for a bit of interesting beach reading, Miranda picked up a copy of Alexander Hamilton, a biography of the founding father by historian Ron Chernow, in the airport bookstore. The importance of that idle purchase and what it inspired is impossible to overstate, now that the musical Hamilton has won universal critical acclaim, multiple Tony Awards, a MacArthur Genius grant for Miranda, the 2016 Pulitzer Prize in Drama, and, perhaps, the first and only invitation to freestyle with a sitting president. Who says beach reading can't be productive?
3. Elizabeth Gilbert: A Shared Journey of Self-Discovery
Author Elizabeth Gilbert shot into the limelight after her 2006 memoir Eat, Pray, Love became an international bestseller. The story chronicles her real-life journey across the world while healing from a painful divorce, leading her on a life-changing trip to find pleasure in Italy, devotion in India, and balance in Bali. The book has sold over 10 million copies and served as the basis of a major Hollywood film starring Julia Roberts. What's remarkable about her story is that it not only lead to personal healing, but the book also inspired countless people to embark on similar journeys of self-discovery. Major travel publications and TV shows from Conde Nast Traveler to Oprah to Orbitz have even featured Eat, Pray, Love-inspired itineraries and ideas.
4. Scott Harrison: Changing the World, One Sip at a Time
It all began with a crisis of conscience and a trip to Africa. That is how Scott Harrison went from being a New York City nightclub promoter to starting a nonprofit organization that has funded nearly 20,000 projects to bring clean water to rural communities.  After seeing extreme poverty first-hand while volunteering on humanitarian missions in Liberia, West Africa, Harrison vowed to devote the rest of his life to making a difference. "Spending time in a leper colony and many remote villages, I put a face to the world's 1.2 billion living in poverty. Those living on less than $365 a year — money I used to blow on a bottle of Grey Goose vodka at a fancy club," he writes on the Charity Water website.  His company travels the world finding clean water and sanitation services. Started in 2006, the company has been growing ever since.
5. J.K. Rowling: All Aboard the Hogwarts Express
Not every life-changing experience has to involve a trip across the world. For J.K. Rowling, a four-hour train ride without a pen from Manchester to London gave her a few crucial hours to contemplate a book idea that popped into her head — the now famous story of a bespectacled boy wizard named Harry Potter. Too shy to ask a pen of her fellow travelers and frustrated with herself for her awkwardness, Rowling waited until she got to London to set about writing the Philosopher's Stone, a happy accident that conjured up a much richer tapestry of the world she would have otherwise created. The first Harry Potter book was finally published in 1997, and Rowling has since become one of the most prosperous and beloved authors of our time, all thanks to that magical train ride.
6. Steve Jobs:  Meditations from the Mountain
Most of us have embraced Steve Job's innovations in some way, but few of us know the story of what transpired shortly before Apple was born. In the 70's, Jobs left for the mountains of northern India with his friend Dan Kottke in a quest for spiritual guidance. The trip included several surreal experiences including sleeping in abandoned buildings, contracting first lice, then dysentery, and then scabies, and finally Kottke's travelers checks getting stolen, which put an end to the trip. Jobs returned with a renewed sense of self and spirituality, establishing Apple shortly thereafter in 1976. Kottke becoming one of Apple's first employees. 
The trip had such a major impact on Jobs, he famously encouraged Facebook's CEO Mark Zuckerberg to take a trip to India as well, and Zuckerberg was happy to take Jobs' advice. Zuckerberg said in a Town Hall meeting with Indian Prime Minister Narendra Modi, "Early on in our history when things weren't really going well — we had hit a tough patch and a lot of people wanted to buy Facebook — I went and I met with Steve Jobs, and he said that to reconnect with what I believed was the mission of the company, I should go visit this temple in India that he had gone to early in the evolution of Apple."
7. Blake Mycoskie: A Step in Charitable Directions
The first time Blake Mycoskie went to Argentina, he was a competitor for the CBS competition show The Amazing Race. When he returned in 2006 for a vacation, the entrepreneur noticed the canvas shoes worn by local polo players, while many barefoot children walked the streets outside of Buenos Aires. This disconnect was the inspiration behind TOMS and the One for One® business model, in which one pair of shoes is donated to a person in need every time someone makes a purchase.
As he told The Guardian, "People, when they think of going on vacations, they think of places that are really like tourism spots that are beautiful. But what I have found is that some of the most beautiful places in the world are also places with the greatest poverty... Rwanda is a perfect example. I wish people would take more adventures to some of these countries and stimulate their economies and learn about what's going on and do that for vacations." Since 2006, the company has provided over 10 million pairs of shoes to children and the mission has expanded into One for One for eyewear as well.
8: Mahatama Gandhi: Makings of a Mahatama
Not all journeys come from a positive place, and deeply negative experiences can produce profound wisdom. This was the case for Mohandas Karamchand Gandhi, better known today as Mahatama Gandhi. As famously chronicled in his biographies, Gandhi arrived in Durban, South Africa to serve as counsel to a local merchant. South Africa suffered from ingrained segregation at the time, as Indians were treated the same as non-whites. Gandhi faced multiple instances of injustice — ejected from train compartments despite having first-class tickets, subjected to police beatings and ordered to travel under deplorable conditions. His experiences abroad returned him to India a changed man, and, championing ahimsa or non-violence, Gandhi orchestrated a peaceful revolution against the British to lead his own highly oppressed country to freedom.  
Sometimes all it takes is seeing the world from a different angle to change your perspective and inspire an idea. Who knows: your next trip could be an amazing life-changing adventure.