The iPhone 7 Might Actually Have a Normal Headphone Jack After All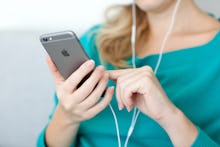 Don't throw away all your headphones yet —the most upsetting iPhone 7 rumor might not be true. 
For months, people have been saying that the next iPhone will have no headphone jack. You would have to either use Bluetooth-enabled headphones or headphones that plug into the phone's Lightning port, where the charging cable goes. 
New alleged photos of iPhone 7 components from a phone repair shop in Ganzhou, China might prove that the next iPhone will have a headphone jack, Engadget reported. The shop posted a handful of photos that it claims are from the iPhone 7 on Weibo. 
Other photos from the account allegedly show that the iPhone 7 could support two SIM cards. 
There are plenty of dual-SIM phones on the market, but Apple has never made one. Dual-SIM phones allow you to have two numbers on one phone, which can be helpful for international travel and having separate work and personal phone numbers without needing two phones. 
As always, these rumors are little more than rumors — we'll find out about what features the iPhone 7 will have when it's unveiled in the fall. So far, we've heard that the phone may or may not have a dual-lens camera and may or may not have a touch-sensitive home button. The iPhone 7 might be cool, but the really special features may not appear until the iPhone 8. 
Read more: