The Childish Gambino's 'Pharos' Album Experience — Everything You Need to Know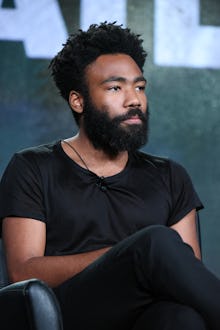 On Friday, reclusive rapper Donald Glover a.k.a. Childish Gambino made his return to the internet after a long, self-imposed silence in the strangest and yet most 2016 way possible. 
At exactly 3 p.m. Eastern Friday, he surprised his fanbase with a single tweet to his long-neglected Twitter account: a link to an app called Pharos. At first, following the link revealed nothing more than a drawn-out countdown and some ambient music. The suspense drove some fans up the wall as they scrambled to unpack the cryptic app.
When the timer hit zero around 6 p.m. ET Sunday, fans were left with more questions than answers. It seems Gambino has an album in the chamber, but to get first dibs, fans have to make a September pilgrimage to Southern California's Joshua Tree National Park to hear it.
The Pharos app revealed that Childish Gambino will be debuting new music at a three day "full album experience" September 2-4 at Joshua Tree, near Yucca Valley. Tickets are $99 for a single date and purchasing them require a phone and photo ID to discourage scalping. According to a Pharos support FAQ, programming will start at 6pm and the campsites will be cleared the following morning at noon. Pre-sale starts June 24th at 9 a.m. Pacific. 
That's about all we know — officially. It's not much to go on for fans trying to decide whether suffering a day and night in the desert and a $99 hole is worth it. However, the walls of Gambino's camp are not airtight. A few leaks and hints as to what the project may contain have slipped out over the past few years. Here's what we know so far, to be updated as more information becomes available:
The music:
Back in June 2015, vocalist Aaron Michael Gutierrez posted a series of tweets he probably wasn't supposed to, revealing he had been invited as part of a choir to lay down some "very intricate, very rich harmonies" for five tracks as part of an interesting session. 
Gutierrez deleted the pictures shortly after, but Pigeons and Planes caught a screenshot.
Redditors on r/hiphopheads may have found where those harmonies ended up. User B-more_freshout sped up the ambient audio in the Pharos app and found it sounds a hell of a lot like choir harmonies. Here it is, sped up 80%.
Another user noted that the beat is reminiscent of a new, as-yet-untitled song Childish Gambino debuted at Bonnaroo in 2015.
The concept:
Gambino's title "Pharos" offers some insight into where the concept of the album lies. Pharos is the ancient Greek name for the Croatian island Stari Grad, where the Lighthouse of Alexandria, one of the Seven Wonders of the Ancient World once stood.
The countdown symbol ø also happens to be a full Danish word, meaning "island." Gambino's last project Kauai was also set on an island, suggesting the new album may continue the previous album's narrative.
If it does continue on the Kauai narrative, it will probably take a more experimental bend. During a September 2015 interview the rapper expressed his desire to take his work in a radically different direction. "I feel like Childish Gambino is a period that should come to a close," he said on the Today show. "I like endings."
Read more: 
June 20, 2016, 3:16 p.m.: This story has been updated.