Teen Charged for Beating Muslim Man Outside of a Mosque in Queens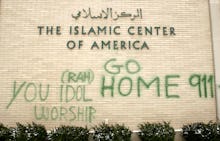 Just a few days before the start of Ramadan, Mohamed Rasheen Khan — a 59-year-old Muslim-American man of Guyanese heritage — was brutally attacked and beaten outside a mosque in Queens, New York. According to BuzzFeed, the New York Police Department arrested a 14-year-old in connection with the assault and charged him with a hate crime on Monday. 
After finishing his night prayers at the Islamic Studies Center on Jamaica Ave, Khan, who was wearing traditional Islamic garb, hopped on his bike before three teenagers attacked him. After knocking him off his bike, the teens repeatedly punched and kicked Khan. The other two teens have reportedly not been found. 
The Council of American Islamic Relations urged NYPD to investigate and charge the attack as a hate crime. According to CAIR, Khan's attackers did not steal any of his belongings and laughed as they fled the scene. 
After the attack, Khan was taken to the hospital, where he was treated for a concussion as well as fractures to his ribs and face. As BuzzFeed reported, Khan remains in the hospital and is unable to open his eyes or speak. He is scheduled to undergo surgery for fractures to his face on Monday.
Ramadan is one of the most joyful times of the year for Muslims worldwide, but many American Muslims say the holiday makes them more visible and vulnerable. 
CAIR Communications Director Ibrahim Hooper explained that mosques are busy during Ramadan, raising fears of anti-Muslim violence. According to Hooper, CAIR releases safety alerts annually urging the American Muslim community to take precautions during the holy month.
"There's far more activity in mosques during Ramadan which tends to attract anti-Muslim bigots," Hooper said over the phone. "This heightens a lot of security concerns for American Muslims and is particularly why we send out safety alerts before the start of Ramadan."
This past week alone, CAIR reported several other cases of anti-Muslim bigotry. On Friday, a family of Syrian refugees in Arizona received threats declaring that "America hates terrorist like you" and "Go Away Killers!" On Saturday, just a few miles from where Khan was attacked, an American Muslim man was beaten outside of his mosque in the Bronx. According to New York City's ABC 7, Mohammed Atique Ashraf was wearing a white prayer cap as he headed towards a prayer service. Three men attacked him from behind, leaving Ashraf with a swollen cut lip, bruises, scrapes and pain all over his body.