Airbnb Will Annouce Plans to Root Out Racism and Discrimination on Its Network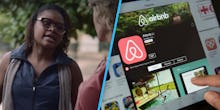 Airbnb is willing to address its problems with systemic racism and discrimination, as long as nobody sues the company over it.
The New York Times reported Sunday that Airbnb wants to make announcements in the next 10 days about how it plans to root out racism and discrimination for its worldwide network of hosts. This comes only a few days after the Congressional Black Caucus urged Airbnb CEO Brian Chesky to take the reports of discrimination seriously.
Since Airbnb rooms are generally owned by regular folks with a spare room to rent, they consider many of their hosts exempt from laws like the Fair Housing Act, which prevents discrimination. Still, Airbnb is regularly owning up to the criticism that some of its hosts are prejudiced.
There's just one catch: Airbnb has new terms and conditions that prohibit its users from filing class action lawsuits against the company.
Systemic discrimination: A recent paper by Harvard researchers showed hosts are 16% less likely to accept Airbnb guests with "distinctively African-American names" than guests with white-sounding names.
In Washington, D.C., an African-American man named Gregory Selden is suing Airbnb after he couldn't get a booking when using a profile picture of his own face, but was able to book the same rooms when he set up fake profiles posing as white men, court documents allege.
Author and animator Shadi Petosky said she was flatly rejected by one host for being trans:
Then there was #AirbnbWhileBlack, a Twitter hashtag that became a cascade of stories about how many African Americans experience the sharing economy.
Airbnb openly acknowledges its problem with racism and discrimination.
"It's a really, really hard problem and we need help solving it," Chesky said at the company's tech conference in June, according to TechCrunch. "We want to move this forward. I myself have engaged with people who have been victims of discrimination on the platform. We take this seriously."
The startup is taking small measures here and there. Airbnb banned the host who shut out Petosky, and recently put out a video celebrating diversity and LGBTQ identities.
But to address systemic discrimination, Airbnb will have to handle prejudice on its platform with a broad solution that deals with discrimination more materially than feel-good videos, and more holistically than playing whack-a-mole with bad hosts each time a complaint makes the news.
So what will Airbnb do, exactly? It doesn't know yet.
Airbnb hired Laura Murphy — the former head of the American Civil Liberties Union's legislative office in Washington, D.C. — to head up the anti-discrimination effort, and Murphy told the New York Times she plans to have a full action plan publicly available by September.
But without the capacity to file a class action lawsuit against Airbnb, guests relinquish the ability to use the U.S. legal system to achieve their ends — a last recourse that has broken ground on civil rights issues over and over in the last century. 
Those seeking justice will just have to see what Airbnb has in store for them.
Read more: