In Memoriam: Quavo of Migos Declares the Dab Officially Dead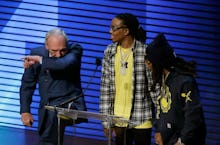 Like an iPhone's battery life, internet trends aren't made to last.
Like planking, the cinnamon challenge and cat breading before, every viral trend struts its hour upon the stage, only to die as quickly as they were born. The latest casualty of the internet's limited attention span: the viral Atlanta dance, the dab.
Popularized by Atlanta rap group Migos (or Peewee Longway, depending on who's account you accept) the simple dance move involves tucking one's head into the crook of their elbow as if to cough. Carolina Panthers' quarterback Cam Newton helped deliver it to the masses, using it as his touchdown dance last year.
Sunday, TMZ caught up with Quavo from Migos, and when asked about the dance's increasing popularity, and Newton's announcement he wouldn't be dabbing next season, Quavo declared the inevitable: the dab is dead.
"You gotta give everybody a new trend a new wave, something new to do," Quavo said. "Everybody was copying it is time to switch lanes."
When Quavo says "everybody," he really means everybody. 
A range of celebrities have tried their hands at it, including Carolina Panthers' quarterback Cam Newton, Tom Hanks, Diplo and Hilary Clinton. Most of these have been nothing short of cringeworthy. In memoriam, we've collected some of them into a short, bittersweet history of the dab.
Kendrick Lamar
Cam Newton
Betty White
Hilary Clinton
Ariana Grande
Several Fox newscasters
Sports author and newscaster, Paul Finebaum
Several contestants at the National Spelling Bee
Bill Gates
Rest in peace, dab (2015-2016).
You've been on life support for quite some time now. Migos' declaration was nothing but a mercy killing.
Read more: