FBI May Have Tried to "Lure" Omar Mateen Into a Terror Plot Years Before Orlando Shooting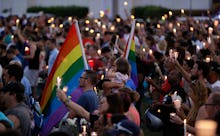 As authorities attempt to make sense of what drove Omar Mateen to open fire on Orlando nightclub Pulse last week, the public continues to wonder — could he have been stopped?
According to an interview with Sheriff Ken Mascara in local newspaper TCPalm, the FBI had not only monitored Mateen for suspected terrorism in 2013, but apparently had even tried to "lure" Mateen into "some kind of act" while he was working at the St. Lucie County Courthouse following comments he'd made about al-Qaida and the Middle East.
In addition to investigations into Mateen's phone records, travel history and acquaintances, Mascara told the paper that the FBI used the fake informant to "lure Omar into some kind of attack," but that he "did not bite." The FBI dismissed Mateen as a terror suspect afterward.
New transcripts from the 911 calls Mateen made amid Sunday's attack reveal he called himself an "Islamic solider" and asked that the United States cease attacks in Iraq and Syria, echoing early reports that Mateen had "pledged allegiance" to the Islamic State, better known as ISIS. In the transcripts, the entity to which Mateen pledges allegiance is omitted. 
"Praise be to God, and prayers as well as peace be upon the prophet of God [in Arabic]," says Mateen, according to one transcript. "I let you know, I'm in Orlando and I did the shootings."
Former FBI agent Coleen Rowley told Alternet that the FBI's move to entrap Mateen in a fake terror plot is fairly standard. 
"It looks like it's pretty much standard operating procedure for preliminary inquiries to interview the subject or pitch the person to become an informant and/or plant an undercover or informant close by to see if the person bites on the suggestion," Rowley said. 
She went on to speculate that because Mateen was working for security company G4S, he may have been "too savvy to bite on the pitch or he may have even become indignant that he was targeted in that fashion."
"These pitches and use of people can backfire," she told Alternet.
Mic has reached out to the FBI for comment and will update this story if we hear back.
Read more: