When Is 'Orange Is the New Black' Season 5? Fans Wonder What's Next After Season 4 Release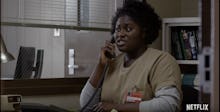 While the benefit of Netflix's original series whole-season-at-once releases mean eager viewers can watch a season of a show in its entirety all at once, the downside is the inevitably long break in between the premieres. Those who have binged through the entire fourth season of Orange is the New Black since its Friday release are already probably wondering: When will season five be released?
Unfortunately, that might be a long way off. If previous seasons are any indication, viewers shouldn't expect the fifth season to come out until June 2017 — a full year away. However, though Netflix has not provided a specific date for season five, there's still plenty more story to be told from Litchfield Prison. 
In February, Netflix announced that the show has been renewed for a fifth, sixth and seventh season — unprecedented for network television, but that's what makes the streaming service's offerings so unique. Therefore, while there's a dearth of new Orange Is the New Black episodes in the short-term, long-term delayed gratification is guaranteed. 
As for those who have yet to catch up, Orange Is the New Black season four is currently streaming on Netflix. You can watch the trailer for the new season below: 
Read more: