Senate Rejects Four Gun Control Amendments, Just a Week After Orlando Shooting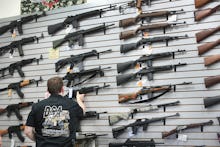 Four gun control measures failed in the Senate Monday night, a little more than one week after a man killed at least 49 people in the worst mass shooting attack in modern American history.
Democrats proposed two of the failed amendments. One would have barred suspected terrorists on the FBI's "no-fly" list from purchasing firearms, while another would have expanded background checks on gun purchasers. Republicans put up the two other measures which were less restrictive than the Democratic proposals.
Each of the four amendments needed 60 votes to advance, and none met that threshold.
The four failed gun reforms mark the latest unsuccessful attempt to amend America's gun laws in the wake of a spate of mass shootings that have killed dozens of people over the past few years.
Democrats have attempted to tighten gun laws following mass shooting events in the past.
After the shooting at an elementary school in Newtown, Connecticut, Democrats unsuccessfully pushed for a stricter background check law. Another Democratic attempt to tighten background checks failed Monday night by a vote of 44 to 56.
Following the mass shooting in San Bernardino, California, in December 2015, Democratic Senators tried and failed to ban those on terrorist watch lists from obtaining guns. Democrats again tried to again ban those on the "no-fly" list from purchasing firearms on Monday, but the amendment failed again by a vote of 47 to 53.
The ban for those on the terrorist watch list received more support than it did when it first came to a vote on the Senate floor in December. Sen. Kelly Ayotte, a New Hampshire Republican who faces a tough re-election battle, flipped to support the measure on Monday.
But it wasn't enough for the measure to pass.
Both Republican proposals, which the National Rifle Association endorsed and which Democrats argued did not go far enough, also failed.
The idea for the four amendments arose last week, when Sen. Chris Murphy launched a filibuster in the Senate to push a vote on gun reforms.
Murphy — whose home state of Connecticut is still reeling from the mass shooting in Newtown that killed more than two dozen in an elementary school — was joined by 40 of his colleagues, including two Republicans. And he was hoping the latest attack in Orlando, one of a number of mass shootings in America in 2016 alone, would motivate the Senate to act.
The Senate's inability to pass gun reforms is likely to stay an issue on the campaign trail in 2016.
Presumptive Democratic nominee Hillary Clinton has called for banning suspected terrorists from buying firearms, as well as for a ban on automatic rifles — such as the one the Orlando killer used in his attack.
Presumptive Republican nominee Donald Trump expressed interest in the "no-fly" list gun ban last week, and last week said he'd meet with the National Rifle Association to discuss it.
But Trump has said he does not support any legislation that curtails Americans' ability to purchase a gun. And on Monday, he was forced to walk back his comment that the Orlando attacker would've been thwarted had patrons of the nightclub where the attack occurred been armed.
Read more: