Noma Dumezweni on the Racist Trolling That Came With Being Cast as Hermione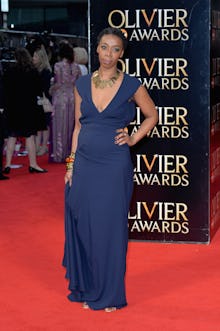 Internet outrage accompanied the decision to cast a black woman, Noma Dumezweni, as Hermione Granger in Harry Potter and the Cursed Child. The British actress has fielded no small part of that fury herself. 
Dumezweni told the U.K.'s Sunday Times she believes the anger is born out of an audience unfamiliar with a non-white Hermione.
"I am a black woman who has been given this character called Hermione to play on the stage," she said. "But actually, we've all grown up with the books, with Emma Watson playing her in the films. Imagery is so strong."
While many have praised the casting of Dumezweni in the role, others have been acutely unkind, tagging her in content "that's not nice," she said. 
And yet, Rowling never specified Hermione's race — something on which the author doubled down on in her initial tweet of support. The world just assumed the series female protagonist was white, and we all know what happens when a person assumes.
"It's ignorance," Dumezweni said, not for the first time. "It drives me crazy. It's a limitation. Because this is absolutely a different form."
Hermione, said the actress, is a character that speaks to women and girls worldwide because of her strength. "Every girl, every walk of life, every race, gets it — how do we go into the world? I want to go into the world the way she does," she continued. "Am I brave enough to go through what she does?"
It would seem so. Harry Potter and the Cursed Child opens on July 30 in London and is already garnering raves.
Read more: