High School Hosts Second Graduation Ceremony After Student Wakes Up From Coma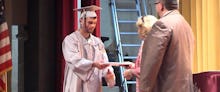 Weeks before he was supposed to graduate from East Juniata High School in McAlisterville, Pennsylvania, Scott Dunn, was in a serious car accident that left him comatose. When he woke up, he was celebrated in a big way. 
Three weeks after EJHS held its graduation ceremony, it held another: This one was just for Dunn. 
"I'm speechless," Dunn said about the last minute celebration, according to ABC27. "I don't know how to even explain it. I'm speechless to know that this many people are behind me."
On May 22, Dunn was driving to a track meet when he lost control of his vehicle and crashed. After being airlifted to the hospital, Dunn was medically induced into a coma until May 28. His graduation was May 25. 
"First thing I said, I looked at her and said, 'I missed my graduation,'" Dunn recounted in the video.
When Principal Benjamin Fausey heard that Dunn was awake, he decided to organize "something special" he told ABC.
So on June 14, over half of Dunn's 80 fellow students regrouped to once again don their caps and gowns and watch their classmate walk across the auditorium stage.
"At the first ceremony I spoke to you about perseverance," Fausey said in his speech at the second graduation, according to WREG. "It's because of his perseverance that Scotty is with us here today."
Read more: