Tyga Says He Didn't Like Being "Overshadowed" by His Relationship With Kylie Jenner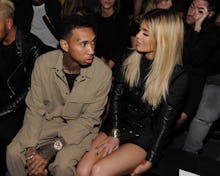 Trying to have a normal relationship from within the compression chambers of the KarJenner media machine sounds like quite the unattainable goal!
Rapper Tyga can confirm.
In a new interview with BigBoyTV, Tyga said his breakup with Kylie Jenner last month had a lot to do with how their relationship "overshadowed" his career goals.
When you're in a very public relationship like that, it's hard for other people to see you differently than that. Being in that, it took a lot, career-wise, everything. It overshadowed a lot of my talents and a lot of things that I worked hard for.
During the nearly two years of their on-again, off-again relationship, Jenner and Tyga made headlines on everything from the legality of their union (she was totes jailbait when they first started dating!) to the inevitable string of cheating rumors on both sides. 
Did Tyga release any new music during this time? Honestly? We don't even know! All we can say for sure is that he dated Jenner.
Another rapper with some experience in the field of having a more-famous-than-him girlfriend is Meek Mill, who has gone on the record as saying that he finds his girlfriend Nicki Minaj's mega-success to be more of a turn-on than anything.
"I like girls that hustle," he told GQ last year. "She a boss."
That said, having a partner who is successful isn't exactly the same thing as having a partner who brings the ever-present KarJenner cameras of E! to a relationship. Excessive media attention has been a known kiss of death for past celebrity relationships — so maybe what Tyga means by his lil' quote is he eventually got fed up with the exposure one day and was like, "Listen! I have a career of my own and also I would like some occasional privacy."
Read more: