Glastonbury Festival 2016 Is Going to Be Epic — Here's How We Know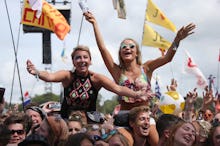 Wednesday marks the start of the massive U.K. festival known as Glastonbury Festival, which runs until Sunday. During those five days, musicians of every genre will grace the festival's many stages — which, let's be real, is actually a little overwhelming.
So with the gigantic lineup looking like someone's impressive iTunes library that took years to build, how does one know whose performance to attend? 
After all, it's recommended to only plan on seriously catching one or two acts per day, according to the festival website. It's way too crowded and sprawling to try to make an airtight agenda. 
So check out this cheat sheet on the must-see acts to make surviving 2016's largest greenfield music festival in the world a little easier.
Tame Impala
Riding on the success of their critically acclaimed album Currents, Australian psychedelic rock band Tame Impala has been peaking in the public's awareness. Their synth-pop rhythms, emotional lyrics and trippy visuals, make Tame Impala a can't-miss act.
Earth, Wind & Fire
Legendary soul-funk group Earth, Wind & Fire has been around for ages — and for good reason. The band still draws in giant crowds that turn into energetic dance parties. Plus they apparently sound just like their vinyls.
James Blake
James Blake is an electronic production force to be reckoned with. He's worked with Beyoncé, Frank Ocean and Kanye — but don't forget, Blake has quite the voice of his own. He croons over genre-blurring beats that dip into dubstep and soul, which the Source called "a sonic experience which builds, breathes and expands, no matter what you decide to call it."
Fatboy Slim 
Fatboy Slim, also known as Norman Cook, is a veteran of the electronic music scene, and a pioneer who helped bring the genre to the mainstream. "Cook samples from a wide range of music —house, funk, even rock — to create electronic music specifically designed for dancing," according to Rolling Stone. So if dancing is your thing, Fatboy Slim is your performer.  
Adele
At first, her headlining position was met with criticism, with people calling Adele "boring." But let's face it: Adele, her powerful vocals and her latest album 25 made history, which makes her a worthy act to see — if not for the fact that she can continue flawlessly during a microphone outage. 
Take note, and check out all of the set times and stages here. 
Read more: