How to Download iOS 10 Beta on iPhone, iPad and iPod Touch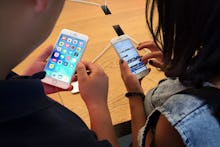 Apple unveiled iOS 10 during WWDC 2016 last week. The messaging features ditch the idea of "less is more" (Bubble effects! Invisible ink! Stickers! Doodles!) and revamp some of its apps, like Maps, News and Music. You can download the iOS 10 beta now. 
But first, a word of caution. 
You don't want to download iOS 10 on your main iPhone. Seriously. Unless you're a developer, make sure you have a backup option. 
The iOS 10 beta download is intended for developers. It's buggy and it'll likely suck up your battery life quickly and crash third-party apps, OSXDaily reported. If, like most people, you have only one phone but you really can't wait to download iOS 10, here's what you should do.
Step 1: Get a Developer Account 
Actually, first, back up all of your data. Got that? Okay, now you can download the iOS 10 beta from this link. 
It's not free: You'll need a developer account, which is $99 a year. You can also sign up for the Apple Public Beta here, a more developed version of iOS 10 beta that will be available to the public in July. 
Step 2: Download the Dropbox Link on Your Phone 
Step 3: Click "Direct Download," Which Opens in Your Settings
Step 4: Click "Install" in the Consent Page
Step 5: Restart Your Device
Step 6: Download iOS 10 Developer Beta 1
Once your iPhone restarts, you can go to Software Update in your Settings to view the iOS 10 Developer Beta 1. 
From there, click "Download and Install" and "Agree" to the Terms & Conditions.
Step 7: Wait
It's not a speedy download. Patience, Apple babies. 
But when you've got it, enjoy. It'll be a totally new and super-buggy experience. Don't worry. It'll get better. And you'll have covert hidden photos to play with while you wait. 
Read more: