Orlando Shooter 911 Calls: FBI Releases Omar Mateen's Uncensored Transcripts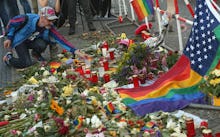 On Monday, the FBI released a transcript from the two 911 calls Orlando shooter Omar Mateen made amid his attack on Pulse nightclub. But while early reports last week claimed Mateen had clearly linked himself to ISIS during the calls, there was no mention of the terrorist group in the original document, released earlier Monday and which read, "I pledge allegiance to [omitted]."
Now, the FBI has made public the uncensored version of the transcript, revealing that Mateen had pledged allegiance to "Abu Bakr al-Baghdadi of the Islamic State." 
In a joint statement, the Justice Department and FBI explained that the partial transcript was meant to remain "sensitive to the interests of the surviving victims, their families and the integrity of the ongoing investigation."
"We also did not want to provide the killer or terrorist organizations with a publicity platform for hateful propaganda," the statement continues. 
"Unfortunately, the unreleased portions of the transcript that named the terrorist organizations and leaders have caused an unnecessary distraction from the hard work that the FBI and our law enforcement partners have been doing to investigate this heinous crime."
The rest of the newly released transcript can be read below:
2:35 a.m.: Shooter contacted a 911 operator from inside Pulse.  The call lasted approximately 50 seconds, the details of which are set out below:
(OD)   Orlando Police Dispatcher
(OM)   Omar Mateen
OD:     Emergency 911, this is being recorded.
OM:     In the name of God the Merciful, the beneficent [Arabic]
OD:     What?
OM:     Praise be to God, and prayers as well as peace be upon the prophet of God [Arabic]. I wanna let you know, I'm in Orlando and I did the shootings.
OD:     What's your name?
OM:     My name is I pledge of allegiance to Abu Bakr al-Baghdadi of the Islamic State.
OD:     Ok, What's your name?
OM:     I pledge allegiance to Abu Bakr al-Baghdadi may God protect him [Arabic], on behalf of the Islamic State.
OD:     Alright, where are you at?
OM:     In Orlando.
OD:     Where in Orlando?
Read more: