All These White Celebrity Kids Are Making Fashion's Diversity Problem Even Worse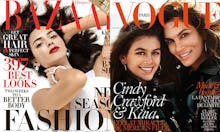 Over the past few months, there's a pretty good chance you've seen a face that looked familiar to you in a fashion campaign or on a magazine cover. Maybe it was the eyes. Maybe it was the cheekbones. Maybe it was the pout. Something about their face reminded you of someone else — but not quite.
Chances are, that person was the child of a famous celebrity — the offspring of Kris Jenner or Alec Baldwin or even Johnny Depp. And that's because currently, celebrity kids are taking over the fashion world.
Now, there is nothing inherently wrong about a child of a celebrity taking advantage of their advantage. They have easy access to fame after all, so why not make money off of that fame in the process? Given that they're the kin of one or two celebrities, it's likely that they've hit the genetic jackpot, so why not take advantage of that too?
However, their ramped up presence of late is doing something noteworthy to the fashion industry: It's making it even whiter.
A large majority of celebrity kids trying to nudge their way in the industry are the offspring of at least one prominent white celeb.
Think Hailey and Ireland Baldwin, who are both part of the Baldwin clan, or Kaia Gerber, whose mother is Cindy Crawford. Think Sailor Brinkley Cook, daughter of Christie Brinkley. Think Ava Sambora, whose parents are Heather Locklear and Bon Jovi guitarist Richie Sambora. Think Pierce Brosnan's son, or Gary Oldman's son or Val Kilmer's son, all of whom walked the runway for Saint Laurent. Think Madonna's daughter, Lourdes, who made her debut in a Stella McCartney campaign. Think Dylan Penn, daughter of Sean Penn and Robin Wright, who has already landed a Gap campaign and editorial spreads in in Elle and W. Think Gigi and Bella and Anwar Hadid, whose mother is Real Housewives of Beverly Hills' Yolanda Foster, or Kendall Jenner, whose parents are ... well ... you know.
This diversity issue also effectively shines a light on how white Hollywood in general is, with most celebrities of note (i.e. the only ones powerful enough to make their children famous for simply being related to them) being white people. Now, it seems, Hollywood's diversity issue is not unalike the fashion world's, where, although things are improving — with diversity numbers up and non-professional models carving out spaces for themselves — things could still get better.
This spring, more than 78% of models cast in fashion advertisements and campaigns were white. In the fall, more than 84% were white. As far as fashion shows go, in this past New York Fashion Week, more than 68% of models cast were white. In the previous season, 72% were white.
So this new wave of white celebrity kids isn't exactly helping things. At the end of the day, it's showing the power nepotism has in this industry.
This new wave of white celebrity kids isn't helping things.; it's showing the power nepotism has in this industry.
Take 17-year-old Brooklyn Beckham, the spawn of soccer star David Beckham and former Spice Girl-turned-fashion-mogul Victoria Beckham. Brooklyn landed his first modeling gig at 15. He's landed the cover of Miss Vogue and Vogue China. In January, he photographed an entire Burberry campaign, which angered professional fashion photographers the world over.
"Part of me takes my hat off to Burberry and says that's clever, but the photographer side of me says for god's sake," fashion photographer Chris Floyd told the Guardian. "Brooklyn Beckham's got however many million Instagram followers, that's what's attracted Burberry. The people his age are Burberry's target market or the future target market."
It's not a question of whether or not Beckham is good at modeling or even photography. It's a question about why nepotism still has so much power within the fashion industry. It's a question of, if Beckham wasn't a Beckham, would he have succeeded at all?
Another example of a celebrity kid on the rise in the fashion world is 17-year-old Lily-Rose Depp, daughter of actor Johnny Depp and French actress and model Vanessa Paradis. When she was just 16, Depp was named a Chanel ambassador, landing a campaign for the brand's sunglasses. Since then, she's been seen on the cover of Love magazine and V, and been announced as the face of Chanel's new fragrance, Chanel No.5 L'Eau.
Those are just two examples of how quickly and flawlessly the children of celebrities can move up in this industry. For an industry claiming to be committed to and desperate to change and be more open to diversity, the full, joyful, easy embrace of the young white children of celebrities seems like a step backwards.
In the same world that Depp and Beckham have miraculously risen in are models like Leomie Anderson, Maria Borges and Denise Bidot, all professional models of color who have been in the industry for years now, and haven't yet gotten a break as large as a Vogue China cover or a Burberry campaign or even a Chanel campaign. So now, besides the struggle of being a model of color, they have to deal with yet another blow: not being the offspring of a celebrity, which is essentially giving teens a fast pass to fame and fortune in the fashion world.
Though, that doesn't mean all celeb kids are contributing to this debacle. There are, after all, the Smith kids, the spawn of Will and Jada Pinkett Smith. Jaden, the eldest, recently starred in a campaign for Louis Vuitton, sending shockwaves through the internet for slipping on a skirt. Willow, the youngest, has starred in a Marc Jacobs campaign in full-goth attire and has been named a Chanel ambassador. Unlike Jenner and Hadid, however, the Smith kids had carved out careers for themselves prior to fashion, with Jaden starring in a number of movies, and Willow pursuing a music career.
There's also Ming and Aoki Lee Simmons, who recently made their modeling debuts at 16 and 13, respectively. Their parents are model Kimora Lee Simmons and Russell Simmons, a founder of Def Jam Records and a hugely successful entrepreneur.
So, there is hope.
However, there are still far more young white celebrity offspring currently in the spotlight than celebrity offspring of color, so it's easy to feel like young white kids are taking over the fashion industry, rather than people like Bidot or Borges.
Although there's nothing wrong with a celebrity's kid turning to modeling, the fashion world's embrace does raise a few questions about how devoted it really is to diversity and the future of fashion.
Read more: