Selena Gomez Takes James Corden on a Roller Coaster on Carpool Karaoke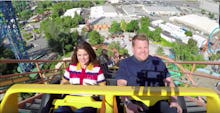 At this point, James Corden is no stranger to detours on The Late Late Show's Carpool Karaoke segments — it's a miracle he ever makes it to work on time. But Monday's installment with Selena Gomez was the closest he's come to going off the rails — literally. 
In the middle of their segment, the duo stopped for a roller coaster ride, and decided to push through Gomez's "Come and Get It" while they were at it.
Next stop: McDonald's. As Corden noted, they've been using Gomez's lyrics on their soda cups — reason enough for her to be excited. On the McDonald's side, the employees were ecstatic to see the pop star in the flesh. 
McDonald's in tow, Corden turned the conversation toward something more serious: the reverse sexism that pervades Gomez's friend Taylor Swift's girl squad — and keeps Corden on the perimeter. Gomez was unmoved. 
"I think this industry could use a little bit of female sexism," she says. "I think we have a right to be that way. It's a lot harder to do what I have to do." 
You can check out the full Carpool Karaoke segment below: 
Read more: