'Hamilton' Creator Lin-Manuel Miranda May Lend Star Power to the Democratic Convention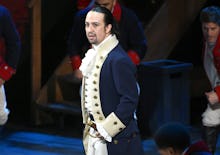 Democrats have reportedly reached out to Hamilton star Lin-Manuel Miranda to perform at the Democratic National Convention in July, an effort to garner press coverage following the Republican convention and presumptive nomination of Donald Trump as the GOP's presidential candidate, Politico reported Tuesday.
Miranda is one of the most popular performers of the moment. His Tony award-winning Broadway musical Hamilton commands thousands of dollars per ticket.
And he is not one to shy away from politics.
He appeared in the White House Rose Garden to freestyle with President Barack Obama.
His acceptance speech at the Tonys, where he declared "love is love is love" following the massacre during Latin night at a gay nightclub in Orlando, has become a rallying cry.
It's unclear whether Miranda will attend the DNC, as he's reportedly slated to be filming a remake of Mary Poppins for Disney during the four-day convention.
Still, it's not only Miranda who Democrats hope will perform at the DNC. He is one of a number of celebrities Democrats have reportedly reached out to as they seek to unite the party, excite young people behind presumptive nominee Hillary Clinton, and attempt to dwarf Trump's press coverage next month, according to the Politico report.
Read more: