Frank Ocean Pens Intense, Emotional Reaction to the Orlando, Florida, Shooting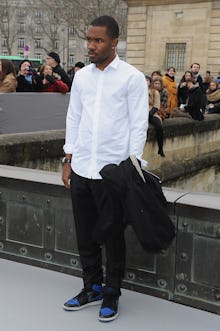 A little over a week after a shooting in an Orlando, Florida, gay club floored the nation, the reclusive Frank Ocean took to Tumblr to reflect. 
"I heard on the news that the aftermath of a hate crime left piles of bodies on a dance floor this month," Ocean wrote Tuesday in a short, poetic post, mediating on the many ways homophobia continues to manifest in the world. "I heard the gunman feigned dead among all the people he killed. I heard the news say he was one of us."
Ocean's mediations bring up memories from his own life and questions about the nature of God, specifically whether those who spread love and those who spread hate are truly speaking to the same being.
"I wanna know what others hear, I'm scared to know but I wanna know what everyone hears when they talk to God," Ocean writes. "Do the insane hear the voice distorted? Do the indoctrinated hear another voice entirely?"
While Ocean has been continually silent on the music front since bypassing his proposed July 2015 new album, his Tumblr has stayed full. He's previously penned posts honoring Prince following his death and two on Paris following the attacks in November, one aimed at Donald Trump and one directed to the affected families.
Read Ocean's full Orlando meditations attached below.
Read more: