Our Prayers Have Been Answered: Pimples Are Now Fashionable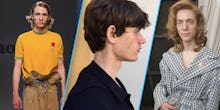 Perfect, poreless skin has long been in. After slathering on some foundation, concealer, bronzer and highlighter, there is an expectation for skin to not look much like human skin, but instead like a lush satin sheet, or a very shiny horse. Society expects skin to be without wrinkles, freckles and, above all else, any trace of acne. 
Well, according to one designer at Milan Men's Fashion Week, those days are almost over. 
Acne, at long last, is in. 
At Malaysian designer Moto Guo's show on Monday in Milan, every single model in the gender-fluid show walked down the runway with pimples. And not cutesy, fake pimples, but the kind of pimples that most of us probably know all too well, with large ruddy marks spotting most of the models' faces. 
It looked like the high school hallway all over again. 
The show itself was titled "Picnic in the Society" and had models wearing cutesy, oversized, craft store-looking garb while stomping down a runway with glaringly obvious blemishes on their faces. 
In the end, the overall effect was crystalized with the models taking their final walk to "So Long, Farewell" from The Sound of Music, looking like schoolchildren from the early 1930s.
Fashion runways have long been a place for designers to attempt to make the traditionally unattractive attractive. Think crimped hair. Think oversized anything. Most recently, there has been a rebellion against intense contouring and makeup, which is famously used by the Kardashian klan to make their skin look like that of a silken animal. There's been a rise in designers opting for the most natural-looking makeup possible, as well as anti-contouring at a Hood By Air show in September, which reversed the colors of contouring and made models look totally bizarre. 
All Moto Guo is doing with this show is taking things one step further. So, now that having acne is chic again, may we suggest other totally normal, human things to come back into fashion too, like muffin tops and not-totally-white teeth. Maybe it's time for frizzy hair, badly cut bangs and bags under our eyes to come back too. 
Maybe fashion really is here to save us all from trying to look traditionally perfect all the time. 
Read more: