'Pretty Little Liars' Premiere: Everything You Need to Know About Season 7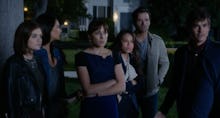 Drama and mystery return to Rosewood, Pennsylvania, on Tuesday's 8 p.m. Eastern premiere of Pretty Little Liars' seventh and likely final season — whether or not Spencer Hastings, Hanna Marin, Aria Montgomery or Emily Fields like it. 
After all, the last season left audiences with many questions — particularly about Uber A's identity, which may have something to do with the complex DiLaurentis kin, now that new family ties have been revealed. Alison DiLaurentis has been in a mental hospital ever since her husband, aunt, and mother's secret twin, were playing mind games with her. At the very end of the season, the Liars' plot to trap Uber A went awry, and Hanna was seen unconscious and dragged away at the hands of the torturous Uber A. 
"I'm excited to answer all their questions," actress Shay Mitchell, who plays Emily, told Popsugar about the new season. "I'm excited to see who's good and who's bad...I think, with this season, it'll honestly be the one where you get the answers."
The seventh season kicks off with the girls racing to beat a 24-hour window to save Hanna. Although her fate remains unknown, fans should expect for this season to host the most deaths, according to a panel with PLL producer Marlene King. 
But on the maybe/brighter side, there'll also be a wedding.
On that note, there'll be many love triangles as well, with King telling TVLine that this is the most romantic season yet. Aria and her former beau, and teacher, Ezra Fitz may rekindle their flame, despite her being with Liam Greene. Another triangle will involve Caleb Rivers having to choose between Hanna and Spencer. But Caleb will also be focused on trying to save his ex-lover Hanna. The fate between Emily and Alison will also surprise audiences, King said.
But new cast members may make relationships even harder to sort out — especially those who are returning. Brent Daugherty, who played Aria's ex-boyfriend Noel Kahn; Tamil Sursok, who played Cavanaugh's step-sister Jenna Marshall; and Lindsey Shaw, who played Emily's in-the-closet ex-lover Paige McCullers, are all gracing the PLL screen once again. Mona Vanderwaal, played by Janel Parrish, is also going to play a prominent role in season 7. Nicholas Gonzalez will be playing a new character named Detective Vic Furey, who will be the overseer of the Rosewood Police Department and its many, and upcoming, murders.
Watch the seventh season unfold on Freeform at 8 p.m. Eastern, both on television and online.  
Read more: