Luis M. Sanchez Charged With Murder for the Death of Trans Woman Tamara Dominguez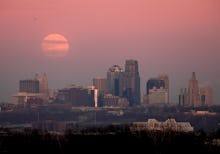 Luis M. Sanchez, 29, was charged with first-degree murder and armed criminal action Monday in the killing of Tamara Dominguez, a transgender woman who was repeatedly run over by an SUV in Kansas City, Missouri, in August, the Associated Press reports.
Missouri has a hate crime statute that includes protections based on sexual orientation and gender identity, but Dominguez's death is not being prosecuted as a hate crime. 
The 36-year-old's body was found sprawled across the pavement in a parking lot behind a local church in the early hours of Aug. 15. She was seen exiting the vehicle that was later used to kill her around 3 a.m. that morning, according to the Guardian. Dominguez was pronounced dead at a hospital later that day. 
Dominguez, who is Mexican-American, was one of at least 21 trans women killed in 2015 — the highest single-year number on record. The aftermath of her death sparked outrage at the time in part because the Kansas City Star misgendered her in their initial report (the paper later corrected its error). 
Dominguez's brother planned his sister's funeral but continued referring to her by her dead name. He also declined to decorate the ceremony with red and white flowers, as is the custom at funerals for women in Mexico, according to the Guardian.
Advocates in recent years have cited inadequate data as a barrier to understanding the roots and scope of anti-trans violence in the U.S. — information that is vital to identifying and preventing crimes like the one that took Tamara Dominguez's life.
"When you can't quantify the statistics of a group ... you can't understand its challenges — or easily lobby for federal funding — without evidence," Mara Keisling, executive director of the National Center for Transgender Equality, told the Washington Post in January 2015.
The vast majority of trans women murdered in 2015 were women of color, according to a report from the Human Rights Campaign and the Trans People of Color Coalition. This pattern seems to be holding for 2016 as well. 
Read more: