This Slut-Shaming LGBTQ Pride Meme Is Making the Internet Very Angry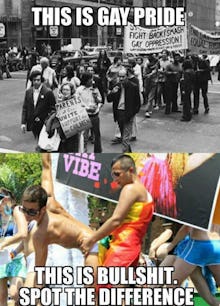 During LGBTQ Pride month in June, people in the queer community celebrate their history and express our sexual freedom. 
But, one internet meme would rather put these two reasons to celebrate at odds.
The meme depicts a crowd of gay protesters with the words "THIS IS GAY PRIDE" on one panel and on the panel below, two men grinding on each other with the words "THIS IS BULLSHIT. SPOT THE DIFFERENCE." 
Commenters on the post, which has garnered over 3,200 shares since Saturday, engaged in a back-and-forth over the meme's slut-shaming tone and the nature of pride celebrations. 
"We need to get the hell over this sexual repression bullshit," one commenter wrote. "Sex is natural, and normal." 
"The top [image] is pride: the bottom [image] is pride," another commenter wrote. "Choosing to not hide your body, or to not walk in single file lines is an act of rebellion." 
One Twitter user, Angry Black Hoe-Mo, spoke out against the meme as well, saying that it valued respectability over self-expression.  
He also said that, in light of the recent tragic mass shooting at Pulse nightclub in Orlando, Florida, the meme misunderstood the importance of queer spaces and queer expression — both of which were under attack at the Pulse shooting. 
"The simple act of existing authentically is an act of protest," he wrote.
Read more: