Sony Xperia X Series Is Coming to the US — Here's How to Pre-Order Online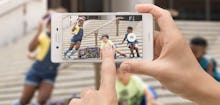 Now you can preorder the Sony Xperia X — the hottest new smartphone on the market — in the United States. It should be available for purchase on Saturday. It will cost $549.99, the same starting price as an iPhone 6. 
Here's a little bit of what you can expect from the new phone: 
The Case
The Xperia X Series is a tiny bit thicker and a tiny bit longer than an iPhone 6. The X Series is 0.31 inches thick, while the iPhone 6 is 0.27 inches, and they're 5.6 inches and 5.44 inches tall, respectively. It comes in four colors: "graphite black," "lime gold," rose gold and white. 
The Camera
The X has an impressive camera, both on the front and the back. It boasts a 23-megapixel camera on the back and a 13-megapixel front camera. The iPhone 6, in contrast, has an 8-megapixel back camera and a 1.2-megapixel front camera. 
The Battery
Xperia says the X has up to two days of battery life with normal use, with more additional technology that helps the battery perform better. It even has quick-charging capabilities — it can get up to 5.5 hours of power with just 10 minutes of charging with the special Sony Quick Charger UCH12.
The Display
Sony's Xperia smartphones have a special type of display called Triluminos that the company says allows for a significantly larger color palette than on other phones. The company also uses a something called X-Reality, which it says adds missing pixels and reduces noise in photos and videos. 
Read more: