This Harrowing 3-D Map Shows Exactly What Happened Inside the Pulse Nightclub Shooting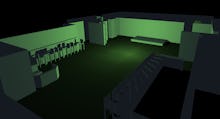 No one can know the horror of being inside Pulse, the nightclub where the largest mass shooting in modern U.S. history took the lives of 49 victims last week. But if you can face the suspense and terror of it, there is a way to see how the events unfolded.
The staff of the Tampa Bay Times have recreated the events of the Pulse nightclub shooting in an interactive 3-D rendering. The haunting map allows you to click through the events, one by one, as members of the LGBTQ community struggled to survive the night.
The interactive map isn't for the faint of heart. The presentation features a handful of people who were at Pulse that night, following them around through dark corridors, illuminating each one with a beacon of throbbing light.
The maps shows portraits of both those who walked away, and those who didn't, punctuated by dialogue like "Get down" and "We gotta get Tiara."
The shooter, Omar Mateen, shows up on the map as a dull red. There is no sound.
The story is constructed from both the police accounts of what happened that evening and the testimonials of survivors who huddled together in the club, hidden beneath bathroom sinks and holed away in hidden rooms, hoping for respite.
Click here to see the entire project, called "Choice and Chance."
Read more: