Dwyane Wade Gets Naked, Reveals Insecurities for the 'ESPN the Magazine' Body Issue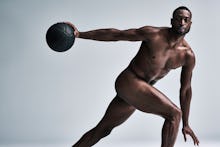 NBA future hall-of-famer Dwyane Wade has stripped down for ESPN the Magazine's upcoming Body Issue.
Wade, 34, joins a band of athletes who posed for the magazine's annual body-positive issue, slated to hit newsstands July 6. For now, thirsty eyes can see a tease of Wade in all his 6'4" glory thanks to these teaser images shared on the sports network's Twitter account.
What did we ever do to deserve such a gift?
ESPN released an excerpt from the accompanying story in which the Miami Heat guard explains why — after six years of turning down the magazine's requests — Wade finally decided to let it all hang out for their cameras in junction with the teaser photos. 
"I was just never comfortable until about four years ago, when I started feeling comfortable with my body overall," told the publication. "As you go through life, you get more comfortable with yourself. It's like everything else with life — you change, you grow. People might think it's simple, but for me it was hard to even feel comfortable walking around naked when it's just me and my wife."
While Wade does have a physique seemingly carved by the Gods, it's only human that he might have a tough time acknowledging his beautiful body — he falls asleep next to Gabrielle Union every night. 
"When I was young, my belly button was an outie, and I never even wanted to take my shirt off when we were at the swimming pool or outside during water fights. The only people who went into the pool with their shirts on were the kids who were overweight — and me," Wade continued.
The NBA player goes on to describe himself as a "fat boy at heart" who is forever battling to stay lean. It's a battle Wade appears to have conquered. And how. 
Have a look here.
Read more: