Elon Musk's Brother Is Opening a Healthy Fast Food Chain. Everything Will Cost Under $5.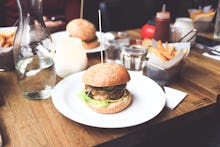 Just as entrepreneur Elon Musk wants to revolutionize space travel, his brother Kimbal wants to revolutionize the way people eat. 
Kimbal, the younger of the Musk brothers, is opening a healthy fast food restaurant where everything will cost less than $5, Tech Insider reported. The first location of the restaurant, called The Kitchenette, will open in Memphis, Tennessee, inside the visitor's center of Shelby Farms Park, an urban park and conservancy spanning 4,500 acres.
The younger Musk made millions in Silicon Valley with his brother, but he has some restaurant chops too. He eventually left the tech industry to go to culinary school, Tech Insider reported. Musk currently also helps run two other chains, called The Kitchen and Next Door, which have eight total locations across Colorado, Chicago and Memphis.
The Kitchenette will serve mostly grab-and-go items like sandwiches, soups and salads, Tech Insider noted. Musk plans to work with local farmers and serve only food with organic ingredients, but keep it all at a low price point. 
Fast food tends to be highly caloric and void in nutrients. "People are overweight and starving at the same time. It's a tragedy for both the individual and society," Musk told Tech Insider.
With this move, Musk joins a growing list of people attempting to provide Americans with healthy but affordable fast food options. Chefs Roy Choi and Daniel Patterson recently opened locations of their low-priced chain Locol in low-income areas of Los Angeles and Oakland and have plans to open more, according to SF Gate. Gwyneth Paltrow has invested in chef José Andrés' new vegetable-focused chain called Beefsteak, which has locations in Washington, D.C., and Philadelphia, Eater reported. 
Considering American chains are still serving up items like Red Robin's Bleu Ribbon Burger, which has a whopping 1,361 calories, many welcome this trend as a breath of fresh, nutritious air.
Read more: